Our team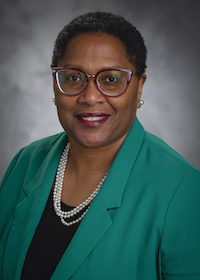 Rev. Marilyn J. D. Barnes, MS, MA, MPH, BCC
Rev. Robert B. Lantz, Chair
Assistant Faculty
Phone: 804-828-3578
Email: barnesmj5@vcu.edu
The Rev. Marilyn J. D. Barnes serves as Chair of the Department of Patient Counseling, College of Health Professions and as the Director of Pastoral Care at VCU Medical Center.
As part of the John Templeton Foundation initiative to promote research literacy in the field of chaplaincy, Rev. Barnes is a Transforming Chaplaincy Research Fellow Cohort 1 graduate. Her research interests include, religious and spiritual coping as protective factors for African-American women against the chronic stress associated with racial discrimination, the impact of spiritual care interventions in support of staff, and sustainability with the integration of Spiritual Care Encounter Simulation in Clinical Pastoral Education and chaplain continuing education
She has presented at numerous conferences. Her publications include the seminal chaplaincy research, "What do I do? Developing a taxonomy of chaplaincy activities and interventions for spiritual care in intensive care unit palliative care," (BMC Palliative Care, 2015) which developed a normative language for chaplains and is currently being incorporated into chaplaincy practice in a variety of settings in the US and around the world, "Symbols of Comfort for a Journey of Grief," (Illness Crisis and Loss, 2014) an article focused on the use of ritual during the initial grieving process, and "Spiritual Care Encounter – Journeying with a Grief Stricken Family" (Simulation in Health Journal of the Society for Simulation in Healthcare, 2017).
She is an ordained Itinerate Elder in the African Methodist Episcopal Church and a Board Certified Chaplain through the Association of Professional Chaplains. She is a graduate of two Historically Black Colleges and Universities (HBCUs); Texas Southern University where she received a Bachelor of Science degree in Computer Science and Southern University where she received a Master of Science Degree in Computer Science. She holds a Master of Arts Degree in Pastoral Care and Counseling from Garett Evangelical Theological Seminary and a Master of Public Health Degree with a concentration in Epidemiology from the University of Illinois at Chicago.